I think this is one of the news, which got a little bit lost in all the MAX news.
Next to awesome StageVideo, which can run 1080p video ~0% CPU on Windows desktop PC and 8-10% CPU on new MacBook Air, which can display even 4K video, we had a demo preview at the Adobe Booth, where you could watch a real 3D movie running in a preview of possible future Flash Player.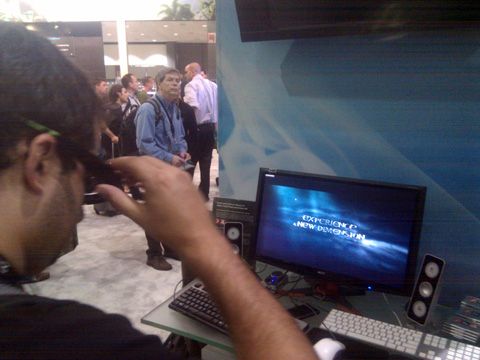 Well, as you can see it's hard to take a picture of 3D video, I guess, you just need to believe me, but pssst, it's reeeally stunning!



The technology uses NVIDIA 3D Vision 3D glasses and IR emitter (that little pyramid) + you also need supported display (120Hz with NVIDIA 3D Vision support – there are already plenty of them available Acer, Samsung…) and one of the supported graphics cards – most of the new NVIDIA graphic cards.

3D video is becoming a next big thing – we go to cinemas to watch it and it's going to be widely available soon on the TVs and projectors. The only problem of the current world is the content, but this is going to change soon as well, when cheaper cameras become available and producers are starting to port their cinema movies to desktop/TV movies (Note: it's not easy convert and unlike in 2D video it's not just copy/paste).
Adobe already supports 3D postproduction in Creative Suite 5. And you maybe know Youtube has already launched 3D channel.
How much is it?
Basic set of 3D glasses, IR emitter can be bought around 204 USD + Acer 24" display around 440 USD.
To be honest, I am seriously thinking about buying NVIDIA 3D Vision – maybe the virtual reality is finally coming.