Created
April 21, 2009
The Student Shuffler AIR application is now available via Adobe AIR Marketplace.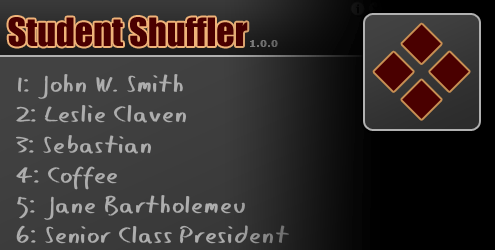 The app was built to facilitate a fair and transparent way of organizing classroom presentations whether by group or individual student. The instructor goes in before class and inputs each presenter into the application edit interface. This is saved locally to the internal database. When it comes time to begin presentations, the instructor needs only to run the app and the students can all see their names being shuffled into a random, numbered presentation order. This not only frees the instructor of any responsibility toward the selection of presentation order, but always transmits an air of fairness around the process that the students can appreciate.
I hope others find this to be a useful piece of software!