November 21, 2012
I was fortunate enough to be able to attend, and speak at, the Adobe Education Exchange Live event in Toronto, Ontario back on November 9th. The event piggy-backed onto the larger DesignThinkers conference being held at the same time and both events led up the Adobe Design Achievement Awards (ADAA) ceremony.
The session I gave at the event was around the University of Denver and our work with enabling our community members to take charge of and deliver encoded video streams through tooling and services built in both HTML and Flash Platform technologies. We've always been about using whatever tools are appropriate for accomplishing specific needs and oftentimes this involves using a number of different technologies together. As someone who works in both web standards and Flash – it irritates me beyond belief when the two are placed in an adversarial context. That just isn't reality – and is harmful to the creative process.
The talk was recorded – but don't think it is available publicly. Slides are below.

Another hi-light for me was getting the chance to chat with gaming evangelist Tom Krcha about Flash, gaming, education, and a number of related topics. Tom gave a great overview of "The Future of Flash" to close out the event and I think it really opened a lot of people's eyes. Flash is a complex platform consisting of many tools, services, frameworks, targets, runtimes, and people doing extraordinary things all the time. It is a shame that so many see it as just a web animation tool as it really is so much more. Having sessions like this should definitely help!
The ADAA ceremony was interesting… this is the second ADAA awards I was able to attend in person and it really is quite an event. To see the truly great works produced by these students is truly something incredible. Please do have a look at the winners and finalists over at http://www.adaagallery.com/.
---
A week or so after getting back, I was asked by the Adobe Media Server User Group whether I'd want to speak at their November meeting. For that talk, I modified my Adobe Education talk to focus on AIR and AMS – and the processes used to have it all work. The slides of this talk are below.
August 10, 2009
I wrote a new AIR app called LiveStreamer available now via the Adobe AIR Marketplace.
This started as a simple mechanism to display a live RTMP stream from Flash Media Server to a client machine and related projection system. So… not for broadcast over the web- just sending a live stream from one physical location to another.
While developing the application, I came across the need to test an RTMP stream and it was so simple using this app that I decided to expand it. In the current version (0.9.0), it will accept RTMP and HTTP streams- just type in the URL and you can easily test it in order to verify that it is correct before trying to publish anything on a website or whatnot. You can also use it as a fullscreen projection or display mechanism as was originally intended.
If you have some FLVs or MP4s or whatnot on your local machine- you can just drag those into the app to watch them. I'm thinking about adding some playback controls and other options a bit later.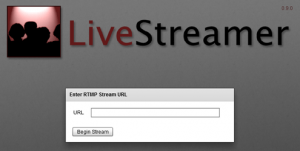 Application for display of video streams via RTMP, HTTP, or local filesystem. Just drag in a file or enter a stream address and away we go!
At the University of Denver, we have built a good number of AIR applications at this point. Some are internal data management tools, others are full, complex, private applications such as the VPS Projection system, and then we have small utility apps like this which others may also find some use for. These we make available to others free of charge as part of our community outreach.