by Kevin Goldsmith
Created
December 18, 2009
I have over 100 links stored in my bookmarks of pages that Pixel Bender developers have created that I want to feature here, but I've been working so hard on the next version of our stuff that I've obviously gotten very far behind. With the end of the year approaching, I'm going to try and rectify that somewhat… starting today.
The links today are in no particular order, they are literally the tabs I have open in Firefox right now:

Elad Elrom – Using Pixel Bender to do heavy lifting calculations, makes Flash Player multi-thread
Eugene Zatepyakin – Canny Edge Detector [AS3 + PixelBender]
Daniel Rinehart – Image Rotation with Pixel Bender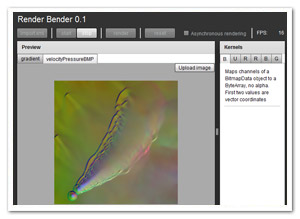 David Lenaerts (Der Schmale) – Render Bender v0.1: optimizing my Flash+Pixel Bender workflow
Nicolas Barradeau – PIXEL BENDER #1 color tweaking
Brooks Andrus – Bilinear Resampling, ShaderJob, Pixel Bender And Flash Player
That is it for this post, but expect more soon!