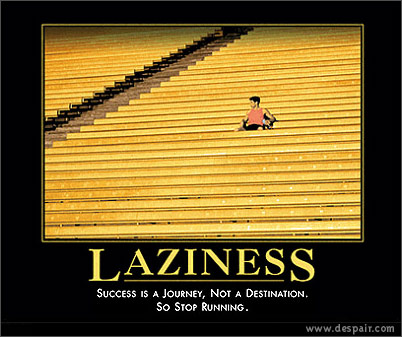 In the days ahead, I'd like to summarise each of the presentations that the Adobe Consulting team are giving.  I'll start today with one that I'm most looking forward to from our User Experience practice, titled "Lazy Innovation". George Neill and Jerome Doran are experience architects within our User Experience practice, in Edinburgh and San Francisco respectively.  The title of the presentation arose from George's observations during what we call "User Experience Discovery".  In "User Experience Discovery", we engage in many UX practices including ethnographic research and user-interviews, where we seek to better understand the end-users of our application as a means of informing the design of the user-experience itself.  Before our technical practice concern themselves with "building things right", our user-experience practice concern themselves with the more fundamental question – "are we building the right thing ?".
George provocatively contests that a human-train often considered a bad behavior – laziness – is actually an inherent human behavior that should be recognised as a virtue that can identify opportunities for innovation in user-experience design.  It is his belief that the "search for laziness" and the ability to learn how to better observe laziness can create short-cuts to finding the opportunities for innovation that exist every time we are given the opportunity to create more innovative user-experiences.
In their respective roles, George and Jerome have touched most if not all of the rich internet applications developed within the Adobe Consulting stable over the last several years, and so in this presentation they'll be using their own work and the work of our team to show where identifying and incorporating the inventiveness of the lazy users results in simpler, easier and more effective applications.
Over the next few weeks, I'm going to interview our MAX speakers around their chosen topics of presentation, so if you have any thoughts on this idea of "innovation through lazy design" then please leave them in the comments, and I'll ask the guys on your behalf.
I can't wait to attend this presentation, which I know is going to be as fun and entertaining as it will be informative and inspirational; it's a really exciting theme through which to weave a showcase of user-experience from our team.
Session Details
Lazy Innovation: Strategy for the Design of Innovative User Experiences
When engaging with applications, users essentially want to complete their tasks with a minimum of difficulty and friction. In this entertaining presentation, the Adobe Consulting User Experience team will explore this "doctrine of laziness" as a means of identifying opportunities for innovative user experiences.
Speakers: George Neill, Jerome Doran
Audience: Web Designer, Creative Designer, Application Developer
Skill: General Audience
Products: Flex, AIR
When:
Monday, November 17, 11:30 am – 12:30 pm