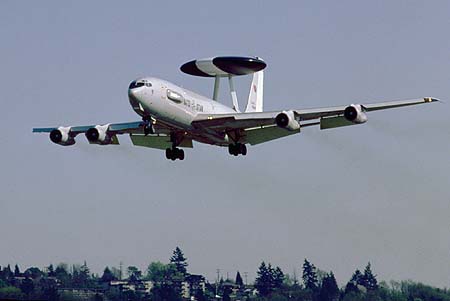 Another presentation from Peter Martin (Adobe Consulting, Edinburgh) in collaboration with Mansour Raad, of mapping partner ESRI.  If you're wondering what the picture of a NATO E-3 AWACS (Airborne Warning and Control Systems) aircraft has to do with Flex 3, LiveCycle Data Services, Data Management Services and ESRI mapping, then read on…
We often talk about "mission critical systems", but this literally is a mission critical system – Peter and team within Adobe Consulting have been working for several months with a team at NATO (North Atlantic Treaty Organisation) to help create an innovative Flex, LiveCycle Data Services and Oracle solution that facilitates the mission planning for AWACS aircraft that fly out of NATO bases.
Known as "MSS" or the "Mission Support System", a key component of the MSS system is an interactive world map that can be scaled, panned, and overlaid with mission planning information.  Innovative visualisations and interactions for mission planning make for a visually-rich internet application, while the sheer volumes of data being managed from the geo-spatial mapping information to the mission information makes for a data-rich application as well.
To support collaborative mission planning, as well as to reduce the implementation effort associated with a data-oriented architecture, MSS makes significant use of the data management services features in LiveCycle Data Services.  Peter and team have continued to drive our best-practices around data managements services within Adobe Consulting, and I'm confident much of that goodness will come through in this presentation, especially if asked.
And if those details of the back-end persistence tier aren't your bag, then you might be more interested in how the team are able deliver the innovative mapping capabilities that will be demonstrated. MSS greatly leverages the AWX Flex API from ESRI, and Peter and Mansour have spent many hours with Flash Player and Flex engineering teams both on-the-phone and face-to-face in San Francisco squeezing the maximum performance out of the rendering of highly detailed maps. A few small islands may have been lost along the way.
With the geo-spatial data for the map being brought under the control of managed data collections within LiveCycle Data Services, mission planning is a truly collaborative experience, as updates to geo-data are immediately pushed to all connected mission planning clients.
As more and more organisations understand the power of the "mashup" in the enterprise, I've seen an increasing trend towards real-time collaboration and visualisations over geo-spatial data; the applications can be as far removed from NATO misson planning as one could imagine, but the technical challenges and solutions remain the same.
Working within Adobe Consulting gives us the right to work on some of the coolest, most innovative and exciting projects – and the Mission Support System for NATO definitely ranks up there.  I hope you can join our team for this presentation, share in a truly exciting Flex and LiveCycle Data Services application, and learn how we've addressed the most challenging of design problems from the vectors to PL/SQL and stored procedures.
Why would you miss this ?
SESSION DETAILS:
Delivery of a Mission-Critical RIA for NATO
Adobe Consulting and ESRI will discuss the real-world implementation of a Mission Support System for AWACS aircraft, built in Flex for the North Atlantic Treaty Organization (NATO). See this powerful example of leveraging ESRI mapping technology with Flex and LiveCycle Data Services ES.
Speakers: Peter Martin, Mansour Raad
Audience: Architect, Application Developer
Skill: Intermediate
Products: LiveCycle DS, Flex
When: Tuesday, November 18, 4:30 pm – 5:30 pm