Creating Motion Graphics With After Effects (CS5) excerpts and availability
The new edition of Chris and Trish Meyer's Creating Motion Graphics With After Effects is available for order.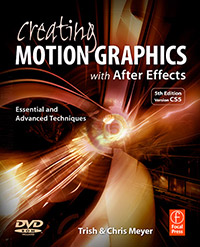 To promote the book and whet your appetite, Chris and Trish have posted some excerpts from the book (in PDF) on their website:
Here's what Chris said about the update in a recent message:
"CMG5 includes the changes introduced in After Effects CS4 and CS5, including new chapters dedicated to the Roto Brush tool, Imagineer Systems' mocha and mocha shape, a new chapter named Parallel Worlds which discusses how to integrate Photoshop 3D elements (including Repoussé) and 3D effects (such as the newly-bundled Digieffects FreeForm) with After Effects 3D layers, and major rewrites to other chapters such as 3D lights (including our own improved recipe for faux reflections), 3D cameras (completely reworked, including a discussion of camera rigs), Advanced Animation (including the new Separate XYZ feature in the Graph Editor), and more. Thanks to the folks at Crowd Control, Hollywood Camera Work, and Pixel Corps, we were able to include a few more HD and RED files for you to play with as well."
It probably goes without saying, but I'll say it for those who don't already know about how great Chris and Trish's books and tutorials are: These folks are the best at explaining how to use After Effects. They're good for beginners, intermediate users, and experts. They teach me something new each time I see them or read something by them.
The Creating Motion Graphics With After Effects book is comprehensive. If you're a novice, you may want to also get The After Effects Apprentice and start with it. I recommend that book in my post about resources for beginners: "Getting started with After Effects".